It's finally come to this: Blog Entry #100!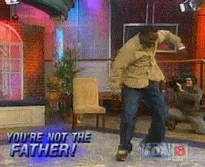 It took me only eight months for Beaming for Bunnies to reach 100 posts. All I know is, I'm halfway there! There are some blogs that haven't come close to 100 posts, or have yet to do so. Screw them, you're reading me, and if you don't like it, you still show up on the view counter!
So, to commemorate this special occasion, I have compiled a list of my most favorite and popular of the first 100 blog entries. For those of you who have discovered this blog in recent months, or have merely forgotten what I wrote about, this should serve as a handy reminder of history in the making.
The 50 Greatest Animated Villains of All Time

Part 1 (#'s 50-41)
- February 28, 2008
Part 2 (#'s 40-31)
- May 23, 2008
Part 3 (#'s 30-21)
- August 8, 2008
Part 4 (#'s 20-11)
- September 20, 2008
Part 5 (#'s 10-1)
- October 12, 2008
By far my most popular work, and the main reason that I moved away from Myspace blogging and created Beaming For Bunnies in the first place. I knew that this series had major potential, and that I realized that I wasn't going to be taken seriously on Myspace. I said "screw it" and created the blog that you read now and haven't looked back.
This series was originally going to be completed one year ago. You see, Myspace had a habit of eating my blog entries, so I wrote every entry in Word. Around June, my trial version decided to crap out on me, so I had held off writing this series. When I finally got Word up and running again, I simply had no chutzpah to write it, and left the list to gather dust until February. What was originally planned to be uploaded over a few days turned into eight months, with 3 month waiting periods between the first 3 parts. Now I know how Joss Whedon feels.
People have asked me who was going to be next, that the list was awesome, and when will the next part be written. Well, they're all done, so I've expected the latter question to cease. In truth, the reason why the last few entries have been sporadic was because I wanted to get the energy to finish off the list, and then move on to THIS entry, #100. It wouldn't have been fair to hold a retrospective of the list with the most important part missing, now would it?
Top 20 Muppet Show Moments
- April 14, 2008
Back when the Villains countdown existed as only a mere Part 1, it was this entry that proved to be my most popular. I loved the Muppet Show, and so did you, so it was only natural for me to create a list of the 20 greatest moments of the show. You'll have to click the link to see who made #1, but it's pretty obvious. I've also mentioned in the past that I'm working on a sequel entry, highlighting 6 more great moments from the show. Expect that one...eventually.
Do You Has The Crave?
- May 31, 2008
My entry where I proclaim my love for White Castle! While I do love this entry, it seems that a good amount of the searches that this blog appears in is for the phrase "Crave Crate," which of course is a package of 100 White Castle burgers. Crave Crate, Crave Crate, Crave Crate.
20 Things Older Than John McCain
-May 16, 2008
Speaking of which, it's all thanks to this entry that Beaming For Bunnies gets a few of its views. It was based on the hit blog "
Things Younger Than John McCain
." It has since been adapted into book form, "
72 Things Younger Than John McCain
." This in turn has led some confused Googlers to type "72 Things
Older
Than McCain" and somehow getting this blog as a result. I thank you all for it.
Just for Kicks
- May 20, 2008
On the topic of Google searches, I created this entry to list random phrases to get this blog into more searches. And then months later I found out how to find search results for this site. Not many of the enclosed phrases has really brought anyone here, but I'm still hoping. Crave Crate.
The Soundtracks For Summer Series
The Enchanted Tiki Room
- May 8, 2008
Under The Boardwalk
- May 10, 2008
Land Down Under
- May 29, 2008
Kokomo
- June 14, 2008
Love Shack
- June 15, 2008
Wipe Out
- July 13, 2008
Hotel California
- July 23, 2008
Rock Lobster
- August 24, 2008
Biggest Ball of Twine In Minnesota
- August 28, 2008
I am personally a fan of my "Soundtracks For Summer" series. It is a series of entries where I write about songs that define "Summer." Four months, and I only made it to 9 entries. I would write more, but it's not summer anymore. I may have tried back in September back when it was still technically Summer, but I kind of accept its exit right around now. It's October. It's Halloween. It's autumn. The trees are finally turning colors now, I can't possibly write a 200 word entry on "Little Deuce Coupe." No way. Speaking of which, the line at
beamingforbunnies@gmail.com
is still open for suggestions for future entries.
The "Things That Start With" Series
- June 2008
Particularly these entries:
A - June 4
B - June 5
C - June 6
D - June 7
G - June 10
H - June 11
I - June 12
K -June 14
N - June 16
P - June 18
Q - June 19
R - June 20
S - June 21
X - June 27
Y - June 28
Z - June 29
There's no doubt about it that June was my busiest month of all. Taking a page from a few blogger buddies who did similar entries about things in their lives that began with a certain letter, I set out to join them by writing an entry about the letter "A." After writing that entry, I thought "Hey, I should do an entry on all the other letters!"
Thoughts like that are so much more positive at the beginning. I considered quitting around "H," but my stubbornness prevailed and completed it all the way to Z!
But there are 2 entries in particular that made June my best month ever. The entry for "N" had a spiel about the Nathan's Hot Dog Eating Contest, in which I critiqued the songs styling of one "Beautiful Brian" Seiken, who was a competitor at the Strawberry Shortcake Eating Contest that I saw the day before. I had also made the mistake of providing my non-Gmail email address in the same entry.
Why, you ask? It turns out that two days later he sent me an email saying how I shouldn't, well, act like a blogger. I obliged by freaking out in pure joy that someone of notoriety had found this blog and then adding his homepage on my blogroll. This somehow led to a slew of visitors arriving here on that very same day, making June 19 my Best Day Ever™. Then I never got visitors again, with my sole reader being a sock monkey glued to a mousepad.
"Beautiful Brian" never did tell me how he found this in the first place. Oh, and if you're still reading this, Brian: I'm still waiting for that CD.
What do we want? SOMETHING!
- July 2, 2008
This entry was a favorite of mine, but it sadly didn't catch on. I decided that we should protest nothing. Sometimes life is boring and we must demand something to happen!
Dennis
- July 11, 2008
Dennis & The iPhone Train Blues
- July 18, 2008
These are the first of my "story blogs" that involve a little character named Dennis. I've been meaning to write a fun little storyline concerning a depressed Bob-Omb and his as-of-now-unintroduced menagerie of buddies with a "Douglas Adams/Pushing Daisies" style of narration. Like everyone in college, they're being written to provide inspiration for my novel...which is not written yet.
The second part to "Dennis & The iPhone Train Blues" has been on the backburner since August, but it'll get written eventually. I said that about the Villain Countdown too, but I managed to get that done.
The 5 Rings of Subparity
- August 12, 2008
Due to the timeliness of the Beijing Olympics, I decided to look back at the lame Olympic Mascots of years past. It seems that I missed one:
Magique from the 1992 Albertville Winter Games. I can't believe that I forgot to include this guy the first time around. He's definitely the wussiest mascot ever. For one, he's French. Also, he's a Man-Star-Snowflake Thing wearing a Fez. None of that speaks "Global Unity" for me. He kind of reminds me of Maggie Simpson's star-shaped winter onesie. I wish we all wore Fezzes, though.
The Best Torso In Football
- August 24, 2008
This is another favorite of mine. Combine Frank Caliendo's John Madden character with a ramble about a movie about Brett Favre. All thanks to my co-worker Tim for his love of frank Calidendo, and for Newsday for giving us Brett Favre's picture for inspiration.
The Muppets Take Washington
- August 30, 2008
With the Election next week, I suppose it's time to revisit my entry where I compared various political figures in the '08 Election to their Muppet counterparts.
Rent...In 10 Words
- September 5, 2008
Summing up the musical Rent in 10 words stemmed from a conversation I had with a few friends roughly two years ago. Somehow the topic of Rent came up and I offered my summation: "I have AIDS! I have AIDS, too! Yay! The End."
A few months ago I realized that this little summary was exactly ten words long. This led me to launch my spinoff blog "
In 10 Words
." Go read now!
Galileo For Veep!
- October 2, 2008
On the topic of election, you might have known that I'm running for Vice President. It doesn't matter what I'm elected Vice President of, I just want to be Vice President. I'm of course, technically competing with dohopoki, who is running his "
Vice Presidential Exchange Program
," which is an entirely different campaign than mine. He wants to be Vice President of the United States. I simply want to be Vice President.
Despite this, he had the nerve to run a smear ad against me:
Ha! The last part of the Villains Countdown is up now! Your mudslinging has all been dried up! And before you make your vote this November 4th, just look at our competing Facebook groups:
Mine currently has 41 members
, while
dohopoki's has only 9
. And here I thought I was going to need that 30 minutes of airtime to preempt Obama's 30-minute ad.
By the way, this seems as good a time as any to announce my running mate for the top of the ticket:
So vote Robot Nixon/Galileo in '08! "Because: Why Not?"
So that's like...41 out of 100 entries that were really that awesome. What were YOUR favorite entries of mine so far?
Let's hope the next 100 entries are just as awesome!