If anyone out there happens to be employed in any type of service industry (ie, food eatery, supermarket, retail), there comes a time when you encounter a few people who happen to frequent your establishment.
You then, of course, assign them a nickname in lieu of actually learning the name, or in several other cases, not bothering to remember it.
My CVS is no different. I happen to have several people that fall in nickname territory: The Thank You Lady, The Parliament Guy, The Cat Lady, The Cat Lady's OCD Sister, The Coupon Lady, The Coupon Queen (who happens to have one of her daughters working there), The Coupon King (there's more than one, as it turns out and not related to the other 2 Coupon Ladies), The Crackhead, The Old Diabetic Guy Who Always Buys Ice Cream, The Other Crackhead, and Michelle.
Today I am focusing on a man affectionately known by my associates as "Bongo Man."
Why "Bongo Man?" Well, he's an old man known to play his Bongoes in the street for no real reason whatsoever. He usually wanders in with them (fortunately, he doesn't play them indoors), along with a backpack, his cap, a surprisingly well-toned body, and his headphones.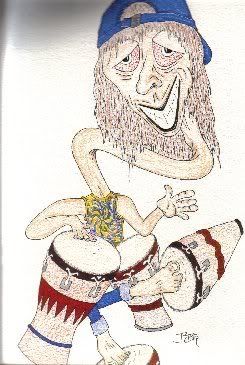 (Artist's Rendering)
His headphones are of note because of the perhaps decades of having them over his ears, they have practically rendered him deaf, so nothing we say to him registers unless we hold the speaker phone in front of his face. I'm not saying that there's anything bad about deaf people, but I've since realized that the deaf would get insulted by this claim.
It seems that the Amish people are the only people left that we can make fun of. Seriously, how are they going to find out about this?
But back to my story. Usually his purchases are nothing ordinary, usually a pint of ice cream, some candy bars, and/or cigarettes. Not today. Well, besides all those things, he also bought a gallon of orange juice.
Not unusual until you see him in line drinking it right out of the carton.
Yes. It's one thing to drink a soda in the store, and another to drink the OJ at home at 3am in your undies like normal people, but in public? A CVS, no less. I don't care what Pathmark's policies are, but CVS is a civilized retail marketplace mart, mister!
So, he got to may, paid for his half consumed OJ, and decided to hang around the newspaper rack for a good 10 minutes afterwards like he usually does. I decided to put the carton in a plastic bag first to somewhat conceal that he's our lovable resident mental patient.
I sure wish I had a paper Crown Royal Bag on hand. And an actual camera. That would've been a blog for the ages.
A simple Orange Juice Chug becomes a Secret Screwdriver Binge at two-thirty in the afternoon in one fell swoop.
So here's to you, Bongo Man!
(Mr. Ramblin' Bongo Man!)


So, for my fellow buddies that work in these sort of places, are there any people that
YOU
have assigned such nicknames to?